This post was sponsored by Amazon as part of an Ambassador Activation for Influence Central and all opinions expressed in my post are my own
Have you joined in with the smart home revolution? Are you trying to figure out how much you and your kids would actually use an Echo Dot Kids Edition?
Our family has had an Echo Dot for a year. We love being able to simply ask Alexa to play music, add an item to our grocery list or even tell us a joke. We are such big fans we just added an Echo Dot Kids Edition to our home. The Echo Dot Kids Edition includes Freetime which has a ton of amazing features for parents.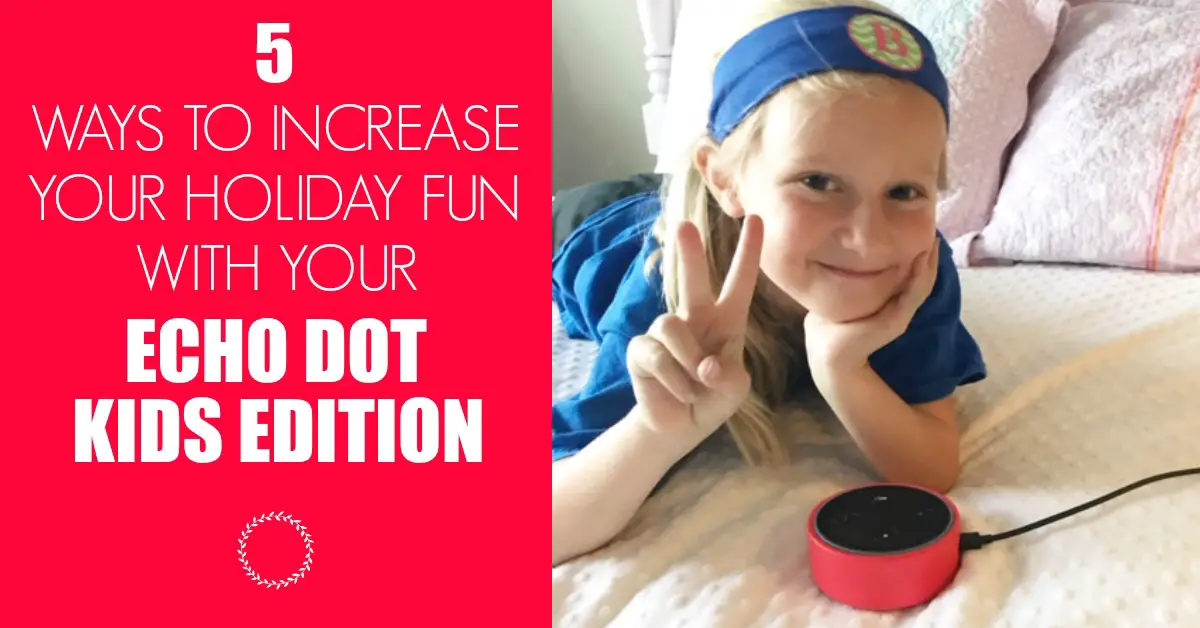 Freetime includes:
household communication
block explicit song lyrics
educational q&a
Magic Word (teach your kids to say "Please")
kid-friendly suggestions when they are bored
lots of other parental settings
You may ask why we would need to add more than one to our home and I'll explain. I'll also share my absolute favorite ways to use the Amazon Echo Dot Kids Edition to make your life easier.
Fun ways to use Echo Dot Kids Edition
1.Talk with them from another room – I don't have to yell up the stairs anymore. I just say "Alexa drop in on Britton's room" and I can then speak to my daughter through the device. So much better than yelling "Dinner is ready!". They don't need to press anything for you to be able to talk to them.
2. Easier Bedtime! – Here is how I have made it so my kids no longer beg for one more story. I read one story and then I let Alexa read a second story. It can even do a chapter book and just start where they left off the night before. I also set the timer on my app so that it will stop at a specific time. I have it set every night for 8:40pm. After 8:40pm Alexa will say "Sorry, I can't play right now.". Check out the parent dashboard.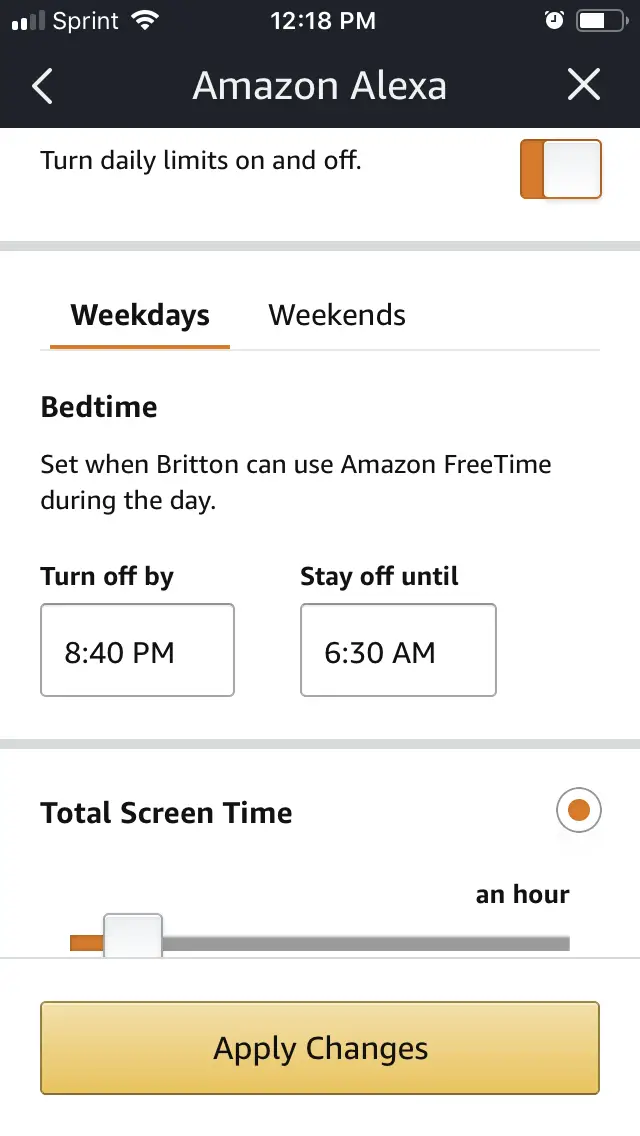 My daughter's bedtime is 8:00pm. I get her into the room and tell her one story and then I let her ask Alexa to tell a story. Then I am able to then move on to give my older kids the attention they need in order to wrap things up and get to bed.
3. Interact with Santa – My daughter is obsessed right now with asking these questions to Alexa.
"Alexa, where is Santa?"
"Alexa, tell me a Christmas story."
"Alexa, can reindeer fly?"
This makes the holiday season so fun.
4. Read Chapter Books – My kids love for me to read to them. My daughter is not ready to read chapter books herself but she loves to hear them read to her. I have to be honest and say that I sometimes avoid reading chapter books because it is tiring to read aloud, I try to cheat and reach for the short and quick books. The Echo Dot Kids Edition has changed that! It has made reading chapter books one of my favorite times. I can lay in bed with my kids and just listen along with them. We can pause the book and restart another night.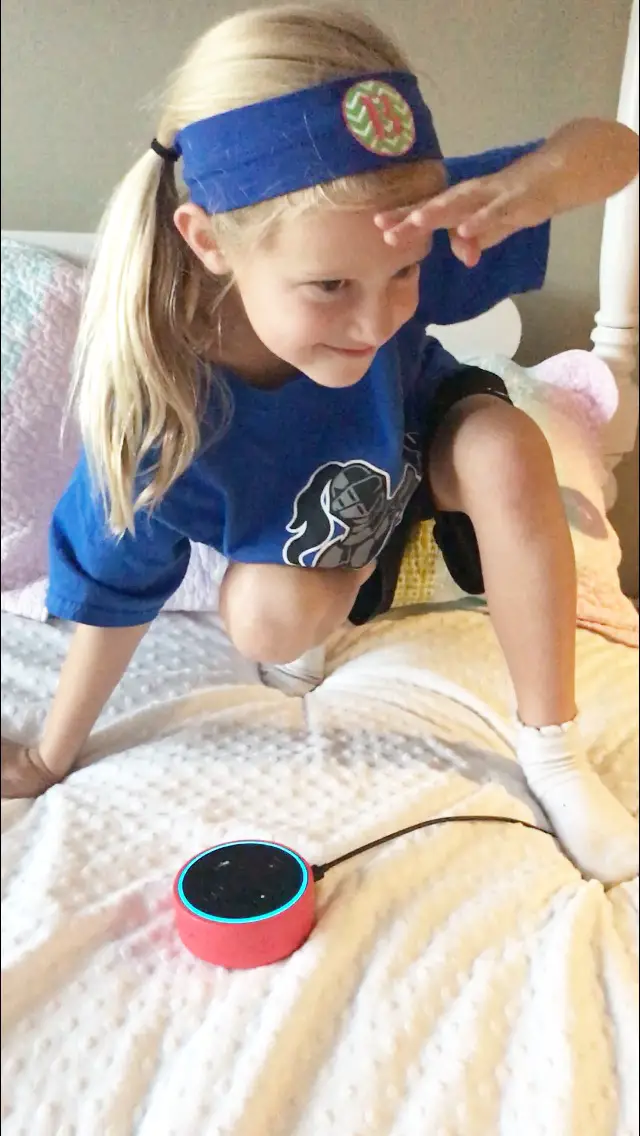 5. Call from outside the home – My boys are at the age where I can leave them for short periods of time at home during the day. Having the Echo Dot Kids Edition gives me the opportunity to do a drop-in from my phone to the device at home. I don't have to trust that they will answer the phone. I just do the drop-in from my phone and start talking. The boys don't even have to get up from the couch.
It makes me feel so much better to know that I can check-in with them so easily.
We have become smart home fans. Anything from adding groceries to my list "Alexa, add milk to my shopping list." to "Alexa, set a timer for 5 minutes." is so easy.
The Echo Dot Kids Edition is fun for my kids and I love how it is a big help for communication and education. With all the parent control features this device is one of my favorites to give to my kids.
CONNECT with Amazon Kids and Family:   Facebook | Twitter | Instagram
Like it? Pin it.