There is nothing better than a game your child enjoys playing by themselves. One Player Games that kids love can be a great life saver for busy moms. We've compiled some of our favorite choices to share with you to pick from for holiday gift giving or just because.
Whether you have an only child or lots of time with just one child in the waiting room while the other child is doing their sport or lessons, having single player games for your child to play can help the wait go quickly. These are tested and loved by boy my kids and some friends of mine. Both of us have kids that have to wait for siblings at sports practices.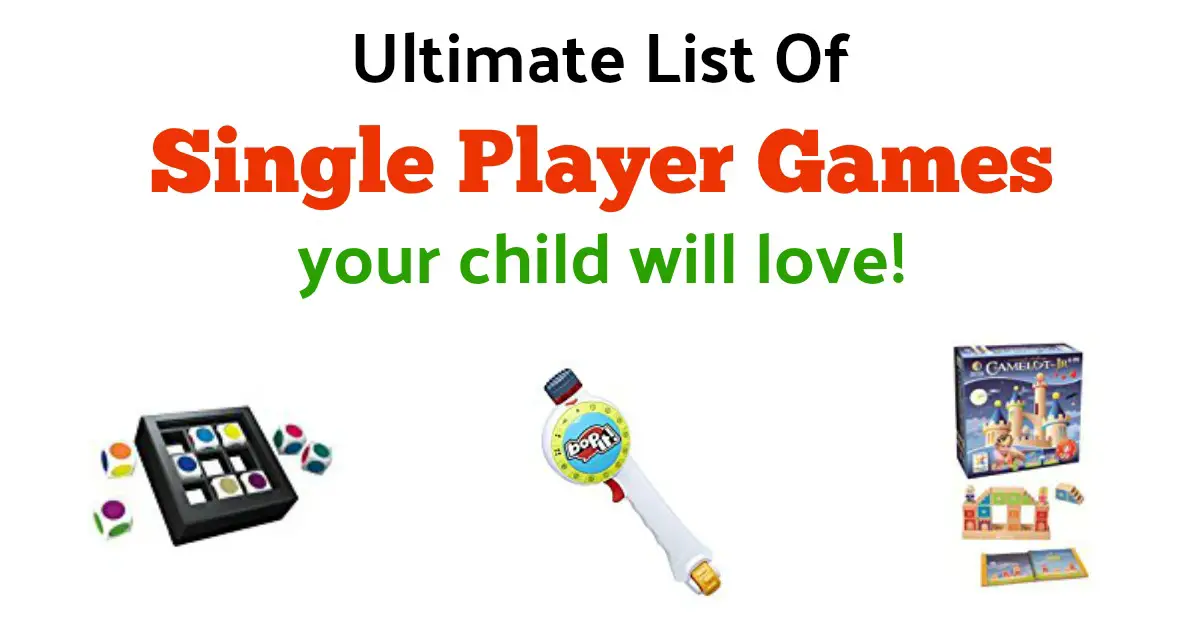 Ultimate List of One Player Games
Giving your children options to entertain themselves when you are busy is a must.  Whether you are shopping this list for a gift idea, or simply adding to your current entertainment options doesn't matter. We know you and your children will enjoy one or all of these great one player game ideas that fit easily into any budget.
1.Elefun Flyers – ages 4+ – this is a fun physically active game that can be played with 1 or more players. The elephant shoots out flyers and your child tries to catch them with a net. My kids had the earlier version of this game and absolutely loved it and I loved that they were jumping around and playing by themselves. 
2. Perfection – age 4+ and 8+ – there are 2 versions of this game. A younger version and an older version. I grew up playing this game. It is a tried and true super fun game that you can play by yourself. Put all the pieces in the right spot before the game pops up. 
3. Penguins on Ice – age 6+ – you must make every piece fit in the square but the object is to get the penguins in just the right spot.
4. Snap Circuits – ages 4-8 or 8+ – solve the challenge by making a loop and it lights up. It has various levels of challenges and you can also purchase different options for different ages and challenges.
5. Simon – a game from my childhood. Did everyone have this too? Now our kids can play this fun sequence game.
6. Etch a Sketch – age 3+ – another classic from our childhood. An awesome drawing toy where no batteries are needed…so another bonus is that it is a quiet activity.
7. Keva blocks – these blocks are great for boys like mine. My boys need a little direction in what to build and these give technical 2D drawings for them to try to recreate in 3D with the blocks. The drawings get more difficult as they master the tasks. Great for learning architecture and engineering.
8. Bop It – very similar to Simon but with different levers and pulls.
9. Rubik's Cube – very old school but so easy to put in your purse to have on hand for an unexpected wait.
10. SmartGames IQ Twist – multi-level logic game. You much fit all the pieces on the board. This is great for travel.
11. Brain Fitness Solitaire Chess – I never knew you could play chess by yourself. If you have a chess fan this is the game for them.
12. Lezhi IQ Puzzle Set – 16 different styles of metal wire puzzles.
If your kid is a soccer fan we also have a list of awesome gifts for the soccer fan.
We love stimulating our brains with games, and this list of one player games is perfect for occupying children while also helping them learn.  Gifting games is a great way to encourage continued use of the gift for years to come. Games are a perfect way to keep your children happy and occupied at home or even in the car!
Like it? Pin it!