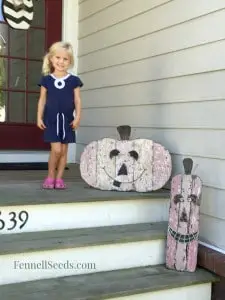 Do you have your costumes all set for Halloween? I'm sure everyone else is scrambling around like me, right? We have been running to the door every time we hear a truck rumble by, hoping it is a delivery. My husband ordered a key piece of a costume weeks ago from China and it is coming down to the wire on whether it will be here in time. We know it is in the States but not sure where.
My daughter is going as Super Girl. As soon as she saw the costume she was all over it. We have had it for weeks and she has already worn it several times.
My boys will be NFL players. They have who they want to be all picked out so now we need to get all the pieces together.
We have pumpkins on our porch, both real and fake and are all ready for the candy fest! Our neighbors are all talking about dragging the fire pits to the driveways and  gathering after a little trick or treating to hang out. Sounds like a great way to keep the trick or treating from lasting for hours.
Which candy do you steal out of their bags after they go to sleep?? I love MnMs…gotta be plain though. 🙂