When people ask me what my favorite baby products this one tops my list. It is the Infantino Tubsider. I seriously cannot imagine giving my kids their baths without this seat. It makes it enjoyable for me and gives them more time in the tub so Win- Win!
I had no idea this product even existed so when I was strolling through Homegoods 7 years ago I saw it and just had to buy it. Now I am on a mission to tell all moms that this thing needs to be on every baby registry. This is going to probably sound like an ad for this product but I promise they have no idea I even exist. 🙂 When I give baths without it my knees and back are killing me. How do people give baths without this thing?
Here is their lovely model…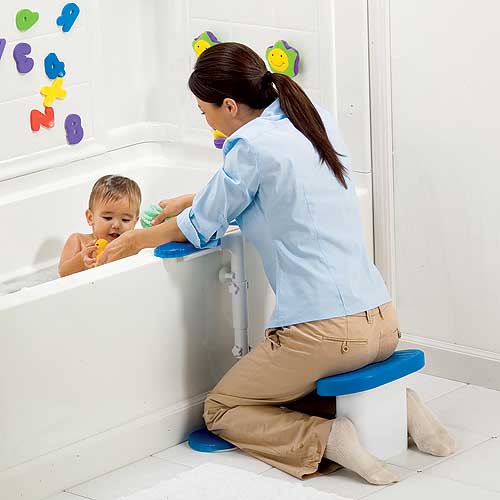 I went upstairs to the kids bathroom to take a picture of ours and after 7 years of it being beside the tub it is looking nasty so I'll spare you. Let's pretend our bathroom looks sparkly clean like the one above. 🙂
I found this at our Homegoods 7 years ago  and I just found out they no longer make it but you can find it on EBay.
Here is a link to the place to purchase. I need to stock up on these to give them to friends having babies.